An Afternoon with Edith Wharton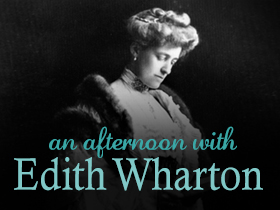 ---
Join the Angels Company as they collaborate with the Olde Glory Theatre  in Seward Nebraska to present An Afternoon With Edith Wharton on Saturday May 3 at 2 PM.  For information about the Seward performance - visit the Olde Glory Facebook page - https://www.facebook.com/OldeGlorySeward  or the website - http://oldegloryseward.com/node/3 or call the Seward Area Chamber of Commerce at 402-643-4189. Tickets are $15.
---
---
---
Join the Angels Theatre Company in Lincoln on May 4 & 18, 2014 at the Ferguson House  at 2 PM for tea, theatre and a scholarly discussion about Mrs. Wharton's wit with UNL Professor Guy Reynolds.  The "theatre" in the event is a performance of the short play Xingu by Thomas Seller.  Xingu is an adaptation of Edith Wharton's short story of the same name.
A group of club-women try to entertain a high-hat woman novelist. Everything goes wrong, and the poor women are in despair trying to make conversation. One member starts everyone talking about "Xingu." No one knows what this is, but no one will admit it!
Sweet & savory bits by VJ Nelson.  Tickets are $30.00 and can be purchased by clicking on the Ticket River button above.