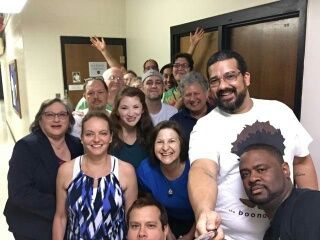 Angels Theatre Company creates engaging theatre to promote artistic growth, foster community relationships and raise social awareness.  Angels Theatre Company nurtures and celebrates theatre artists while engaging our community in quality live theatre. 
Vision Statement:
Angels Theatre Company is committed to community engagement and improving the quality of life in our community by providing opportunities for artistic growth.
By celebrating the work of the playwright and theatre literature through exposure, development and production.
By educating, training and supporting theatre artists in the community.
By honoring diversity in our artistic explorations.
By drawing focus to the work of women theatre artists whenever possible.
ANGELS THEATRE COMPANY STANDS WITH OUR COMMUNITY AND IN SOLIDARITY WITH THE BLACK LIVES MATTER MOVEMENT.
In response to continued and current events, Angels Theatre Company continues its mission to  promote artistic growth, foster community relationships, and raise social awareness.  As artists and as a community, we understand that our mission must work in tandem with the fight for racial justice and against inequality in all its forms.  There is no place for racism of any kind in this organization, this community, or this world.
To this end, we rededicate ourselves to embracing diversity, equity, inclusion, and justice, starting with a thorough analysis of our programming. We want our organization, our mission, and our productions to reflect the diversity of our community.
To our friends, family, colleagues, and artists of color: we see you, we hear you, and we support you. We stand firmly with you. Black Lives Matter.