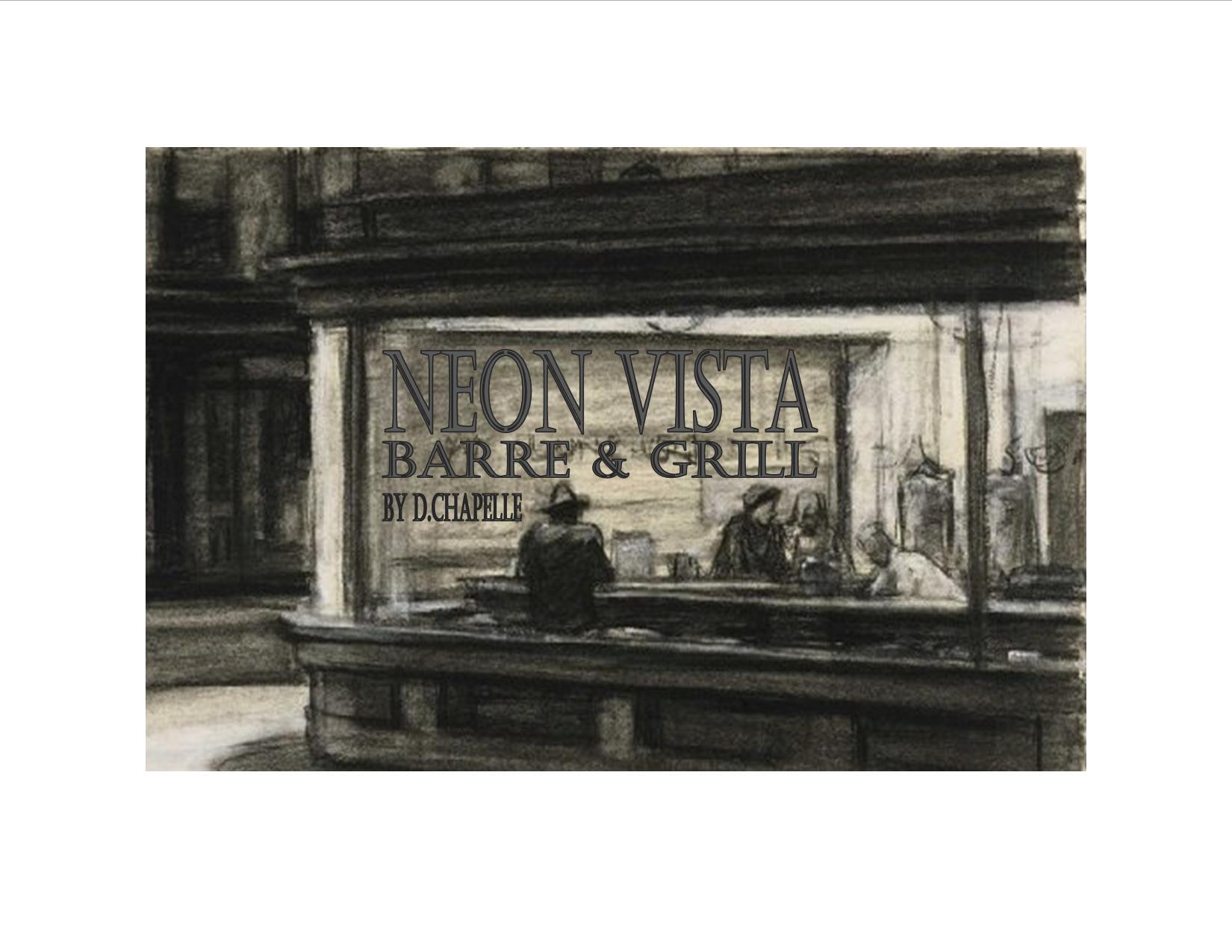 Everyone needs a place to be. A place to rest, regroup, and regenerate over a cold drink, a hot cup of good coffee, and a bite to eat.
The Neon Vista Barre and Grill is such a place. During the course of a day the resident bartender presides over a diverse group of people seeking resolutions and reprieve from their existence. The life of the bar holds laughs balanced with a measure of anguish.
CAST:
Crystal, the bartender, may not have seen it all but she's heard most everything. She is in her late twenties/early thirties and has an impish quality about her.
Alison, is the waitress with a friendly shell surrounding her no-nonsense attitude toward life.
Grant, is a suit-and-tie business man rushing for a meeting. Once he arrives, he stumbles across what might be a forgotten piece of his past.
Joann, is business woman in her mid-thirties to mid-forties who likes things neat and tidy. At the Neon Vista she is reminded how messy life can be.
Dustin, is a writer, and Alison's significant other, and hopefully he is a better writer than he is a boyfriend. 
Rose, a nervous young woman, is in search of peace and redemption.
Carol, is a business woman in the arts. Carol wears her business attire as a suit of armor. She'll need the armor once she meets a writer named Dustin.
Him, is a serious young man, neat and well-dressed, who is doing his very best to stay relaxed while he carries the weight of the world in his pocket.
Her, a young woman dressed brightly, carrying a very large purse, who is distracted by the events of the coming day.
Bobbi, is a stylish middle-aged woman who refuses to judge herself by her age. However, she is willing to judge her current significant other because of his age.
Paul, is in his on one side or another of twenty-five. He is sharp, pleasant, and enjoys each moment he can share with Bobbi.
The Old Man, is closer to the end of his story than he is the beginning. He holds court in silence from his corner of the Neon Vista.