POSTPONED

Directed by ...............................Sarah Halsted
cast:
Otto - Bret Olsen
Lise - LauraLee Woodruff
Edith - Cecilia Burkhart
Male Chorus #1 - Brian Foley
Male Chorus #2 - Mason Gustafson
---
Delicate Particle Logic by Jennifer Blackmer
Heralded as the woman who stole the bomb from the Nazis, physicist Lise Meitner became a human enigma when she fled battle-ravaged Germany directly into obscurity. The war long over, she visits with the painter Edith Hahn, wife of chemist Otto Hahn, and the two women reminisce, open up old wounds, and dissect the teeming worlds of possibility.
---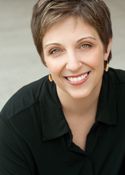 Jennifer Blackmer is a playwright, screenwriter and Professor of Theatre at Ball State University. Her plays have been produced off-Broadway and across the country, and her writing has won numerous awards, including the Joseph Jefferson Award, the PEN/Laura Pels International Foundation for Theatre Award for Emerging American Playwright, and the Alfred P. Sloan Foundation prize from the Tribeca Film Institute.   Read Jennifer's full biography here.