Blacktop Sky by Christina Anderson
2 PM - Turbine Flats, 2124 Y St, Lincoln, NE 68503
FREE ADMISSION - Donations accepted 
---
Klass, a homeless, young Black man, sets up residence in the courtyard of the housing project where Ida Peters lives. Triggered by a fatal confrontation between a local street vendor and the police, Klass and Ida quickly develop a precarious bond against the backdrop of a restless neighborhood. Inspired by the Greek myth Leda and the Swan, Blacktop Sky examines the intersection of love, violence, and seduction.
---
Directed by Jillian Carter
cast:
---
"Christina Anderson's Blacktop Sky serves as a mirror for issues in our society surrounding homelessness, police violence, relationships and above all, empathy." - San Diego Voice and Viewpoint
"[...] as compelling and persuasive as it is adroit." - San Diego Story
"A searing exploration of poverty, homelessness and social disquietude." - San Diego Gay and Lesbian News
---
Click here to hear a wonderful audio interview with Playwright Christina Anderson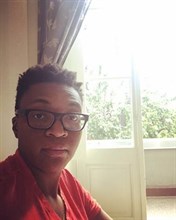 Christina Anderson's work has appeared at The Public Theatre, Yale Repertory Theatre, Penumbra Theatre Company, Playwrights Horizons, and other theaters in the United States and Canada. Awards and honors: Inaugural Harper Lee Award for Playwriting, two PONY nominations, three Susan Smith Blackburn nominations, and Woursell Prize Finalist. Christina obtained her B.A. from Brown University and an M.F.A. from the Yale School of Drama's Playwriting Program. She's a resident playwright at New Dramatists, Epic Theatre Ensemble, and a DNAWORKS Ensemble member. Currently, she's the interim Head of Playwriting at Brown University.