Blacktop Sky by Christina Anderson
2 PM - Turbine Flats, 2124 Y St, Lincoln, NE 68503
FREE ADMISSION - Donations accepted 
---
Blacktop Sky shows what happens when people push and break the boundaries between bystanders and active participants, between ourselves and "others," and what happens when what we don't do and say pushes our story further than the things we actually do.
"Working with this talented cast has re-energized me as a director and a writer,  and helped me remember why I do the things I do. The passion each person brings to their role and to the play as a whole is palpable and something Angels audience members won't soon forget." Director Jillian Carter 
---
Directed by Jillian Carter
cast:
Ida: Deirdre Jackson
Klass: Drew Wicks
Wynn: Walter J. MacDowell III
Stage Directions/Tough Necks: Tim Coleman
---
"Christina Anderson's Blacktop Sky serves as a mirror for issues in our society surrounding homelessness, police violence, relationships and above all, empathy." - San Diego Voice and Viewpoint
"[...] as compelling and persuasive as it is adroit." - San Diego Story
"A searing exploration of poverty, homelessness and social disquietude." - San Diego Gay and Lesbian News
---
Click here to hear a wonderful audio interview with Playwright Christina Anderson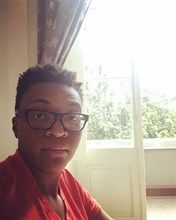 Christina Anderson's work has appeared at The Public Theatre, Yale Repertory Theatre, Penumbra Theatre Company, Playwrights Horizons, and other theaters in the United States and Canada. Awards and honors: Inaugural Harper Lee Award for Playwriting, two PONY nominations, three Susan Smith Blackburn nominations, and Woursell Prize Finalist. Christina obtained her B.A. from Brown University and an M.F.A. from the Yale School of Drama's Playwriting Program. She's a resident playwright at New Dramatists, Epic Theatre Ensemble, and a DNAWORKS Ensemble member. Currently, she's the interim Head of Playwriting at Brown University.