SALON READING SERIES - 2015/2016 focus is comedies written by women.
NOVEMBER 1, 2015 2 PM at Firespring,1201 Infinity Court Lincoln Admission is free - donations happily accepted!
This reading is a collaboration between Angels Theatre Company and Nebraska Girls Shakespeare Company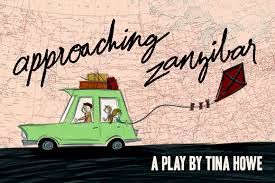 Approaching Zanzibar by Tina Howe follows the Blossom family as they travel cross country to see Aunt Olivia, who has cancer. She is a renowned environmental artist who creates enormous sculptures out of kites. The family camps along the way, having various adventures and meeting relatives and strangers. When they arrive in Taos, New Mexico, Olivia is fading in and out of reality, or is she?
Dr. Tice Miller will facilitate a conversation following the reading
CAST LIST
Wallace Blossom .................................Emily Jobson
Charlotte Blossom ...............................Olivia Andrews
Turner Blossom....................................Shannon Hicks
Pony Blossom......................................Stacia Ogburn
Randy Wands and Scotty Childs........... Brynne Biles
Palace St John and Joy Childs..............Emileigh Maddox 
Fletcher St John and Dr Sybil Wren........Alaina Conner
Amy Childs and Dalia Paz.....................Kat Dorenbach
Olivia Childs.........................................Isabel Kettler
Stage Directions...................................Camille Harrah 
Director................................................Margaret Dean