Sunday October 2, 2016 at 2 PM
Rock Island Social Club, 2110 Winthrop Rd, Lincoln, NE 68502
Timothy Scholl directs Carol Ann Duffy's adaptation of Everyman. (see Timothy's thoughts at the bottom of this page)
Everyman is successful, popular, and riding high when Death comes calling. Forced to abandon the life he has built, he embarks on a last, frantic search to recruit a friend, anyone, to speak in his defense. But Death is close behind, and time is running out.

One of the great primal, spiritual myths, Everyman asks whether it is only in death that we can understand our lives. A cornerstone of English drama since the 15th century, this new adaptation by Poet Laureate Carol Ann Duffy was presented at the National Theatre, London, in April 2015.
Cast for Everyman:
God / Good Deeds:  Christie Emler
Everyman:                Max Antoine
Satan:                       John Burkhart
Company:  Gabby Ayala, Brian Bornstein, LauraLee Woodruff, Amber Nore, Josh Haby, Chloe Nore, Lindsey Oelling and Jesse Snider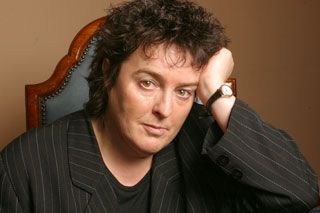 Carol Ann Duffy is an award-winning Scots poet who, according to Danette DiMarco in Mosaic, is the poet of "post-post war England: Thatcher's England." Duffy is best known for writing love poems that often take the form of monologues. Her verses, as an Economist reviewer described them, are typically "spoken in the voices of the urban disaffected, people on the margins of society who harbour resentments and grudges against the world." Although she knew she was a lesbian since her days at St. Joseph's convent school, her early love poems give no indication of her homosexuality; the object of love in her verses is someone whose gender is not specified. Not until her 1993 collection, Mean Time, and 1994's Selected Poems, does she begin to write about homosexual love. read more
Quotes
"I write quite a lot of sonnets, and I think of them almost as prayers: short and memorable, something you can recite."
"Christmas is taken very seriously in this household. I believe in Father Christmas, and there's no way I'd do anything to undermine that belief."
"It's always good when women win things in fiction because it tends to be more male-dominated, unlike poetry, which is more equal."
Licensed by arrangement with The Agency, 24 Pottery Lane, Holland Park, London W11 4LZ info@theagency.co.uk
---
Thoughts by Salon Reading Series manager Timothy Scholl:
Director Rufus Norris notes that Everyman "is one of those plays that people know of, but nobody has ever seen."  Using a new adaptation by poet laureate Carol Ann Duffy, Norris sought to correct this fact by staging Everyman as the first production in his tenure at the National Theatre.
Everyman begins with our central character (one of us), in celebration of his life thus far.  His life of personal pleasure catches the eye of God, who calls for a reckoning, and sends Death to bring Everyman to assess his life.  Forced to account for his time on earth, Everyman seeks support from the components of his life; friends, family, material goods and finally, his own mind.  Abandoned by all, he must face Death and God to examine and measure his life honestly and completely.
Everyman is the best known of the English morality plays, focusing on the moment of death for its ubiquitous central character and exploring the meaning and judgement of one one's life.  As such it is a highly emotional drama, with little emphasis on the religious storytelling that frequently defines the English Cycle drama.  It is exceptional in that it focuses on the story, and not the stage effects and elaborate costumes that exemplify the majority of the English cycle dramas.
Everyman dates from 1508 as a probable translation of the Dutch Elckerlijc (1495).  Four printed versions remain extant, dating from 1508 to 1537.  While both the Dutch and English versions focus on the dramatization of death/dying, the English version also elicits a contemporary focus on the role of the church in salvation, placing it firmly in the Northern European reform movement.
The emotional impact of the play strikes in a primal way.  This is, afterall, a human being confronting death in way that challenges the meaning and purpose of life.  During Everyman's final moments, he captures our sympathy and our mortality through the repetition of his words "I think I have a soul".    
All things forsaken, his forced conversation with God comes to an end.  His final confrontation with death is a visceral provocation for us all to consider our own humanity and, like Everyman, determine the weight and measure of our own soul.
---
http://ntlive.nationaltheatre.org.uk/productions/50433-everyman
Everyman was first produced at the National Theatre London on April 29, 2015
Bevington, David.  Medieval Drama.  Houghton-Mifflin, 1975