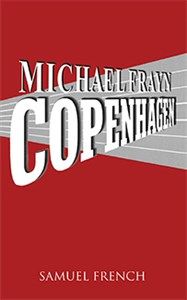 Directed by Bob Hall
Cast:
Dick Nielsen..................Bohr
Patrick Lambrecht.........Heisenberg 
Paula Ray......................Margrethe
---
WINNER! 2000 Tony® Award for Best Play
In 1941, German physicist Werner Heisenberg went to Copenhagen to see his Danish counterpart, Niels Bohr. Together they had revolutionized atomic science in the 1920s, but now they were on opposite sides of a world war. In this incisive drama by the prominent British playwright which premiered at the Royal National Theatre in London and opened to rave reviews on Broadway (ultimately winning the 2000 Tony Award for Best Play), the two men meet in a situation fraught with danger in hopes of discovering why we do what we do.
"The most invigorating and ingenious play of ideas in many a year. An electrifying work of art. - The New York Times, Read More

"Superb. Dynamic." - The New Yorker, Read More

"Gripping. A brilliant play." - London Guardian, Read More

"The word 'tremendous' is often used but seldom deserved. In this case it is. Copenhagen is an intellectual and theatrical tour de force." - London Times
Copenhagen opened in London at the Cottesloe Theatre, Royal National Theatre on May 28, 1998. This production was moved to the Duchess Theatre, London, where it opened on February 5, 1999. Copenhagen opened in New York City on Broadway at the Royal Theatre on April 11, 2000 under the direction of Michael Blakemore.