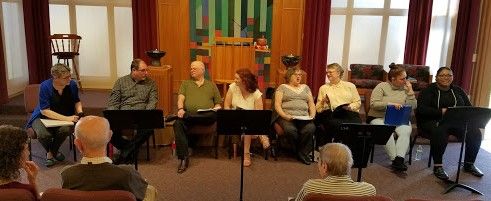 Sunday April 7, 2019 at 2 PM
NOTE change of venue -  Unitarian Church of Lincoln, 6300 A Street
Directed by Barb Keating
---
cast:   DOLLY................Deb Miller
           VI.......................Barbara Barron
           ROSE................Constance Howard
           JANET...............Rachele Stoops
           BELLE...............Sahmia Smith
          JACK..................Mark Mesarch
          DAVY (et al).......Tim Peglow
---
The Belle of Belfast City is a story of loyalty, both political and familial. At its centre is Dolly, once a music-hall star, whose ballads and memories weave through the play recalling the past. Vi, the elder of her daughters, stayed with her in Belfast, while the younger Rose has travelled all over the world as a journalist. She returns, bringing with her for the first time her mixed-race and illegitimate daughter Belle, who is named for her grandmother's stage name. The extended family also includes the Protestant Loyalist fundamentalist Jack, and his sister Janet.
Against the background of protests about the Anglo-Irish Agreement, the play confronts different models of Loyalism and allegiance, a rich and honest lament.
The Belle of Belfast City was first produced in 1989 by the Lyric Players Theatre in Belfast.